Choosing the Best Tufting Frame for Flawless Rug Making:
Unveiling the Gems of the Craft
Rug tufting, a captivating art form that has been gaining momentum in recent years, combines creativity and craftsmanship to produce stunning textile masterpieces.
As more and more individuals immerse themselves in this creative pursuit, it becomes essential to understand the pivotal role played by the right tufting frame in achieving impeccable results.
In this blog, we embark on a journey to explore the realm of rug tufting frames, uncovering the best options available and equipping you with the knowledge to elevate your tufting projects to new heights.
Get ready to discover the perfect frame that will lay the foundation for your rug tufting success.
Key Factors to Consider When Selecting a Rug Tufting Frame:
Crafting Excellence
A rug tufting frame acts as the backbone of your creative journey, and selecting the right one can make all the difference in achieving outstanding results.
To assist you in making an informed decision, let's delve into the essential factors to consider when choosing a rug tufting frame.
Sturdiness and durability: A robust and durable frame ensures stability during the tufting process, providing a sturdy foundation for your artistic endeavors.
Look for frames built with high-quality materials that can withstand the rigors of regular use.
Adjustability and versatility: Opt for a frame that offers adjustability, allowing you to customize it according to the size and shape of your rug.
This versatility ensures compatibility with various tufting projects, giving you the freedom to experiment and create diverse designs.
Ease of use and installation: A user-friendly frame enhances your tufting experience, making the process smoother and more enjoyable.
Look for frames that are easy to assemble and install, saving you time and effort so that you can focus on your creative expression.
Compatibility with different rug sizes and materials: Consider the frame's compatibility with different rug sizes and materials.
A versatile frame that can accommodate a range of sizes and materials allows you to explore various tufting techniques and experiment with different textures and yarns.
Ergonomic design and comfort: Tufting can be a time-consuming process, so it's crucial to prioritize your comfort.
Look for frames with an ergonomic design that provides adequate support and reduces strain on your body, allowing you to work for extended periods without discomfort.
By carefully considering these factors, you can choose a rug tufting frame that aligns with your artistic aspirations and sets the stage for crafting excellence.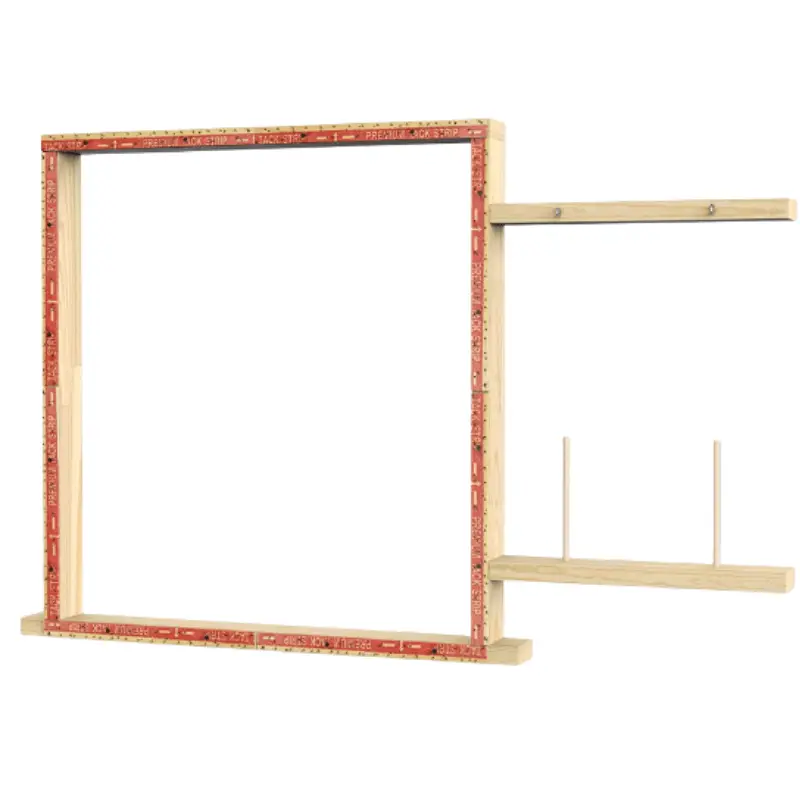 Introducing the perfect companion for your rug tufting endeavors – the We Rug Tuft Tufting Frame! Crafted with heavy-duty materials, this frame is built to last, ensuring a reliable performance throughout your creative journey. 
Let's dive into the features and benefits, price range, and availability of this exceptional tufting frame.
Measuring at 36″ x 36″ (3ft x 3ft), the We Rug Tuft Tufting Frame offers ample space to accommodate your rug tufting projects. 
Its 4ft base provides a solid foundation that can be easily secured to your table using G-Clamps, ensuring stability during your creative process.
Although the frame does not come pre-assembled, assembling it is a seamless task, allowing you to quickly delve into your artistic pursuits. 
The frame includes all the necessary components, such as 14 3-inch screws, eyelet hooks for yarn feeding, corner braces, 1 ft and 3 ft wood pieces, and thin circle rods that serve as spindles. 
Please note that G-Clamps and a Phillips screwdriver are not included.
The We Rug Tuft Tufting Frame offers exceptional value for its price range, making it accessible to rug tufting enthusiasts of various budgets. 
Availability of the frame ensures that you can embark on your rug tufting journey without any delays.
With its durability, convenient size, and easy assembly, the We Rug Tuft Tufting Frame proves to be an indispensable tool for artists and crafters alike. 
Elevate your rug tufting experience and bring your creative visions to life with this exceptional tufting frame.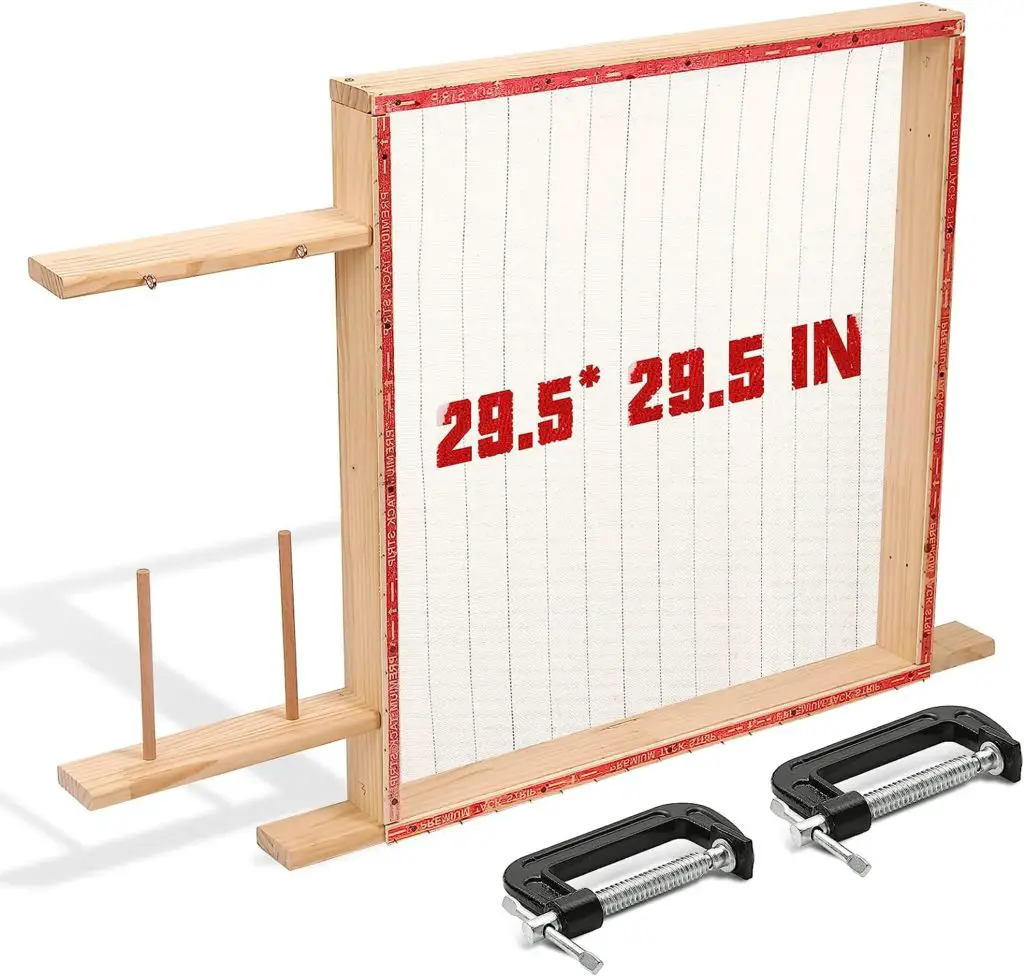 Transforming your tufting projects into works of art has never been easier with the innovative Tufting Frame. 
Let's explore the features, benefits, price range, and availability of this remarkable tool.
The Tufting Frame boasts an effortless user experience, saving you time and effort compared to DIY alternatives. Simply install the frame and secure it to the edge of your table using 2pcs 3-inch G-clamps, creating a sturdy DIY craft frame.
With the tufting cloth stretched over the nails on the front of the frame, you can immediately embark on your tufting artwork journey.
Assembling the wooden rug tufting frame is a breeze, thanks to the comprehensive kit that includes all the necessary assembly hardware.
No need to purchase additional tools, as it is compatible with a standard Phillips head screwdriver. 
Follow the easy instructions and you'll have your frame ready in no time. Please note the nail direction for proper cloth hanging, detailed on the A+ page.
The practical size of the tufting frame enhances its versatility, measuring approximately 35.4″ at the base, 29.5″ on the other three sides, and 3″ wide by 0.8″ thick on each board. 
Its adaptability allows it to be attached to various standard tables, making it ideal for tufting and displaying DIY art on tabletops.
Crafted with high-density wooden boards, the tufting frame ensures reliability and delicacy. 
The meticulously hand-polished surface provides a smooth and delicate touch. These high-quality materials guarantee long-lasting durability, allowing you to enjoy your tufting endeavors for years to come.
The Tufting Frame proves to be a versatile tool, catering to a wide range of creative projects. 
It is suitable for tufting guns, punching needles, carpet and tapestry production, sewing, machine embroidery, manual sewing, and more. 
Whether you're a knitting beginner, a professional artist, an art student, or a DIY enthusiast, this frame enables you to unleash your creativity and create delightful tufted masterpieces. Embrace the joy of tufting and indulge in the captivating world of carpet creation. 
You'll love every moment with this Tufting Frame.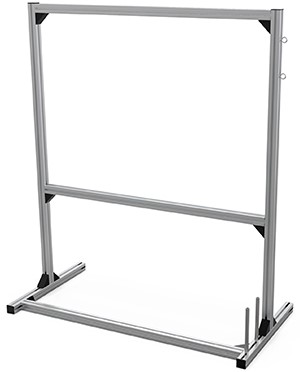 Introducing the ultimate companion for your tufting projects – the High-Quality Tufting Frame. 
Discover its exceptional features, benefits, price range, and availability, and elevate your tufting experience to new heights.
Crafted with hand-welded aluminum, this tufting frame showcases an upgraded design for 2022, surpassing the traditional wooden frames in stability and durability. 
Say goodbye to nails and embrace the all-around protection for your hands provided by the aluminum corner covers. Experience a better and more enjoyable tufting time.
Installation becomes a breeze with the High-Quality Tufting Frame, taking just 10 minutes to complete. The package includes all the necessary accessories, detailed instructions, and tools, eliminating the need to purchase additional items. 
Should you encounter any installation obstacles, our dedicated team is ready to assist you. Simply reach out to us for a helpful and easy-to-understand installation video that will solve any issues you may face.
Don't limit yourself to tufting alone. This versatile tufting frame is designed for multi-scene use, accommodating punch needles, rug carpets, tapestry making, machine embroidery, sewing, and DIY cloth for needlework. 
It is a perfect choice for craft lovers, art students, and artists alike. With this must-have item, you can replace several tools, saving both money and space in your creative endeavors.
Experience ultra-strong stability with the High-Quality Tufting Frame, which has undergone rigorous testing to ensure its reliability. 
The upgraded fixed clip design ensures a firm stance on any surface, preventing thread jams and eliminating any shake during tufting. 
Rest assured, this frame can withstand even the strongest storms without compromising its stability.
Enjoy flexible adjustments and a plastic screw fixation system, surpassing the limitations of wooden frames. 
With a maximum fabric support size of 53.5″ x 44.1″, you can freely adjust the upper and lower ends to meet your installation demands for different tufted cloth sizes. Experience true versatility with this exceptional tufting frame.
Embrace the world of tufting with the High-Quality Tufting Frame, where high-quality materials, ease of use, and adaptability combine to elevate your creative projects. 
Unleash your imagination and achieve stunning results with this reliable and versatile tool.
Finding Perfect Rug Tufting Frame:
A Gateway to Creative Possibilities
In this journey through the world of rug tufting frames, we have emphasized the importance of selecting a high-quality frame to ensure a successful tufting project. 
The right frame serves as a sturdy foundation, offering stability and durability throughout your creative process.
Throughout this blog, we have highlighted the top rug tufting frames, each offering unique features and benefits. 
From the We Rug Tuft Tufting Frame, crafted with heavy-duty materials for long-term use, to the Easy-to-Use Tufting Frame with its practical size and versatility, we have explored frames that cater to different needs and preferences.
As you embark on your rug tufting journey, we encourage you to carefully consider the frames featured in this blog and choose the one that best aligns with your specific requirements. 
Whether you are a knitting beginner, a professional artist, or an art student, selecting the right frame will elevate your tufting experience and help you unleash your creativity.
In closing, we invite you to embrace the exciting world of rug tufting. With the right frame at your disposal, the possibilities are endless. 
Let your imagination run wild, experiment with colors and textures, and create stunning pieces of art that reflect your unique style. 
Happy tufting!